my littlest petshop. pollypocket. blossom. saved by the bell. treasure trolls. doogie howser md. goosbumps books. my so called life. johnathan taylor thomas. gak. cupcake dolls. the babysitters club. TGIF. ahhh real monsters. beetlejuice. devon sawa. ducktales. coolio. lambchop's play along. pogs. sweet valley high. captain planet. ghost writer. "i feel like chicken tonight". dinosaurs(the show). my magic diary. mighty morphin' power rangers. ace of base. who's the boss. star search. american girl books. attack of the killer tomatoes. lion king soundtrack. eek the cat. anamaniacs.
puffy paint. skip it. magna doodle. caboodles. clarissa explains it all. the secret world of alex mack. bill nye the science guy. small wonder. where in the world is carmen san diego. highlights magazine for children.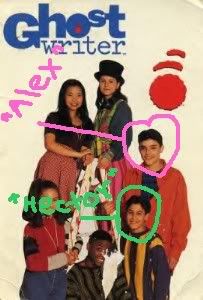 ** "hector" from ghostwriter is now willy the homosexual on this seasons real world: philadelphia.